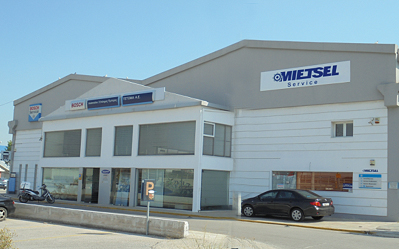 Authorized Bosch Repairshop
MIETSEL S.Α. in parallel to its other activities, and in the frame of addressing the imperative need for technically supporting the specialized vehicles (military vehicles, ambulances, fire trucks, buses, excavators, forklifts, etc.) that it trades, recently acquired an integrated, established, with many years of experience, modern repair shop for servicing all types of vehicles and equipment (engines, generators, alternators, starters etc.), suitable for undertaking the servicing of corporate vehicle fleets.
The repair shop is currently authorized amongst others with BOSCH, Karsan, Solaris & Ikarus buses, RABA vehicles, MAN military vehicles, WABCO-Knorr and Tartarini.