Car – Truck and Bus Service Station
MIETSEL S.Α. in parallel to its other activities and in the frame of addressing the imperative need for technically supporting the specialized vehicles that it trades (ambulances, fire trucks, buses, excavators, forklifts, etc.), it owns an integrated, established and modern repair workshop for servicing all types of vehicles (trucks, buses, cars, heavy- duty vehicles, ambulances, etc) and their equipment (engines, generators, alternators, starters etc) and being most capable for undertaking the servicing of corporate vehicle fleets.
The Car – Truck and Bus Service Station of MIETSEL S.A. is situated in a center-weighted location at 96 Kifissou street in Agios Ioannis Rentis of Attiki, near the port of Piraeus and the center of Athens. It has a housed space of 1.200m², fully secured with CCTV cameras, offering genuine or of equivalent quality spares only from recognized manufacturers, a large portion of which we import directly.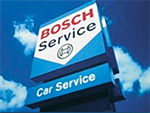 The Service Station operates under the guarantee of Robert Bosch, as an authorized Center of Technical Service – Member of the BOSCH Car & Truck  service network of Greece, and is staffed with experienced qualified managerial and technical personnel.
The organization and structure of the company is such as to address and cope with the Technical Support of companies with a large number of vehicles, 24 hours a day, 365 days a year.
The Technical Support Center of MIETSEL S.A. is equipped with all types of diagnostic equipment providing electronic diagnostics, and repair of all vehicle types both for the mechanical and electrical – electronic parts.
The authorization of BOSCH Car & Truck SERVICE, the excellent technical training, the modern equipment, the 24-hour technical support, the organization for management of company fleets and the company's ability to directly import spare parts are the adequate guarantees for our successful course.
We are at your disposal for technically appraising our repair shop and responsibly undertaking the repair of your vehicles.